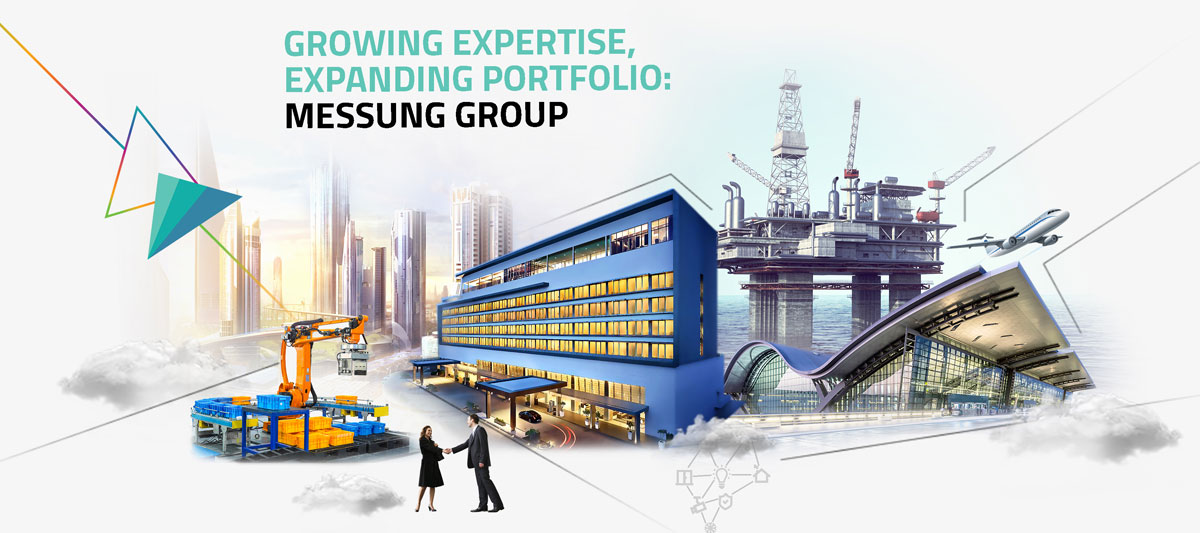 Growing expertise, expanding portfolio: Messung Group
In 1981, Messung was born, and by 1983, had launched India's first indigenous PLC – Meprolog-H. From that pioneering start, Messung grew to become a market leader in industrial automation, continuously adding to their ever-expanding portfolio of factory automation & control solutions in India.
Today, decades down the line, Messung is a diversified conglomerate with expertise that spans industries and applications.
Portfolio that empowers
Messung offers a diverse portfolio of best-in-class products, solutions, and services enabling a wide range of industrial verticals to optimize operations and maximize productivity. The Group's know-how and offerings keep growing, keeping pace with global trends, market dynamics and new technologies.
Messung in Industrial Automation & Control
Messung offer essential components, intelligent devices and advanced industrial automation & control solutions in India,capable of controlling, in a distributed and redundant way, complex industrial processes, machines and high-performance production lines.Smart factory automation & control solutions in India facilitate well-informed decision-making and efficient controls. Their solutions cover:
Process Automation: Messung partners to customize high-end process automation & control solutions in India that meet the highest technical demands for speed, quality, operational reliability, system availability and more.
Servo & Motion Control Automation: They deliver fully integrated, future-proof solutions incorporating Messung's own Nx-ERA programmable logic controllers; motion control systems and drive products from Sigmatek, Austria and Fuji Electric, Japan; HMIs and much more – to bring flexibility, consistency and long-term availability for factory automation.
General Purpose Automation: Messung custom designs General Purpose Automation solutions for varied equipment in diverse application areas. With real-timed diagnostics and maximised control, theyoptimise safety, speed, productivity and efficiencies – for the competitive edge.
Messung in Building & Infrastructure Automation & Control
For all types of buildings, from hospitals to shopping malls, IT and industrial establishments, corporate buildings, and power stations – Messung's solutions optimise energy efficiency and comfort, all the while reducing operating costs.
Messung's expertise in this business covers three broad categories:
IBMS: With products from Distech Controls, Canada, Messung's IOT-enabled BMS solution provides control and supervision of HVAC, Security, CCTV, Intrusion Alarm and Fire systems, including diesel genset, water pumping systems, and other third-partysystems, which are now mandatory in all modern buildings.
IOT: The Internet of Things (IOT) allows exchange of information and data, and enables 24×7 monitoring and remote control of equipment, systems, buildings and plants. Customised dashboards provide data on different criteria while advanced analytics help to improve efficiency, response, operation, preventive maintenance, etc.
EMS: Messung offers integrated energy management systems designed to store energy parameters, analyse consumptions, identify areas of wastage, reduce energy consumption, predict electrical system performance and optimise energy usage to reduce cost in a premise.
Messung in Home, Office & Hotel Automation & Control
Messung works closely with customers to offer a wide range of industry-best automation products and customised solutions that dramatically transform interiors into luxurious spaces, enhancing comfort and safety while reducing energy consumption.
Home Automation: Messung,with Zennio, Spain, provides KNX-based solutions for apartments, villas and bungalows, that enable you to control all your home appliances, lights, fans, TVs, ACs, curtains & blinds, video door phones, CCTV cameras, media devices, garden sprinklers, etc.
Office Automation:With Crestron, USA, Messung helps in automating existing office procedures, and providing control over an increasingly complex network of devices, for greater convenience, comfort and efficiency.
Hotel Automation:Guests can control multiple functions including lighting, air conditioning, drapes and audio/video systems using smart, automated bedside consoles and interfaces. Integration of guest rooms with the hotel's property management system enable better monitoring and control.
Messung in Electrical Engineering
Efficient and safe distribution including energy management and power quality monitoring is critical for providing industries and buildings with power.Messung provides reliable, intelligent and world-class solutions for Power Monitoring and Distribution in three broad segments:
Distribution & Control: Messung provides smart power distribution control panels with Wohner's  special Busbar systems as per IEC 61439 standards. Messung offers total low voltage power distribution control systems that are Industry 4.0-compatible, Cloud-based solutions to provide "Any time Anywhere" supervisory & control features.
Control Panels: Messung provides "Control Panel Solutions" to a wide arena of applications like water and waste water treatment plants, sugar machinery, plastic extrusion, printing, pharmaceutical, automotive assembly and testing lines, electro plating, boilers, material handling, furnaces, mechanical and hydraulic press and other similar applications in different industry verticals.
Energy Management:By implementing proper Energy Management systems, Power Quality Monitoring and Analysis including Residual Current Monitoring,users can greatly benefit from enhanced up-time of machines, reduced tariff and penalties, and improved profits.
Messung offers modern Janitza products which allow customers to implement a comprehensive installation of Class A power quality energy meters,varieties of energy measuring devices with Ethernet IP, Modbus, Profibus, Profinet, M-Bus protocol interfaces as per IEC 61000-2-4.
Messung in Workplace Technology
Messung'sexperience of the health hazards, safety risks and challenges of the industrial workplace has inspired them to find and deliver meaningful solutions – some indigenously made and some from international majors.
Test & Measuring: Messungprovides complete setups for R&D labs, calibration centres, training and didactic centres, electronic assembly & testing, spread across the Indian electronic industry. Ergonomic industrial furniture with ESD protection, and intelligent test & measurement solutions are designed to improve efficiency while offering user comfort.
Electronic Assembly: Messung, under its 'Navonmesh – Make in India' initiative, offers a range of modular, world-class electronic assembly tables in India, besides trolleys and racks for use in electronic assembly, product assembly, repair, rework and end of linetesting in a gamut of industries.
Workplace Ergonomics: Messung's indigenous AFM-PLUS range of rugged and reliable ESD-safe electronic assembly chairs in India are proven in tough industrial applications. With world-class looks and specifications, theseergonomic ESD chairs enhance user comfort, safety and health to benefit your people.
Conclusion
From designing and manufacturing their own range of products and bringing the world's finest products from leading international majors, to building integrated solutions – Messung delivers technological excellence with customised service through the entire life cycle.