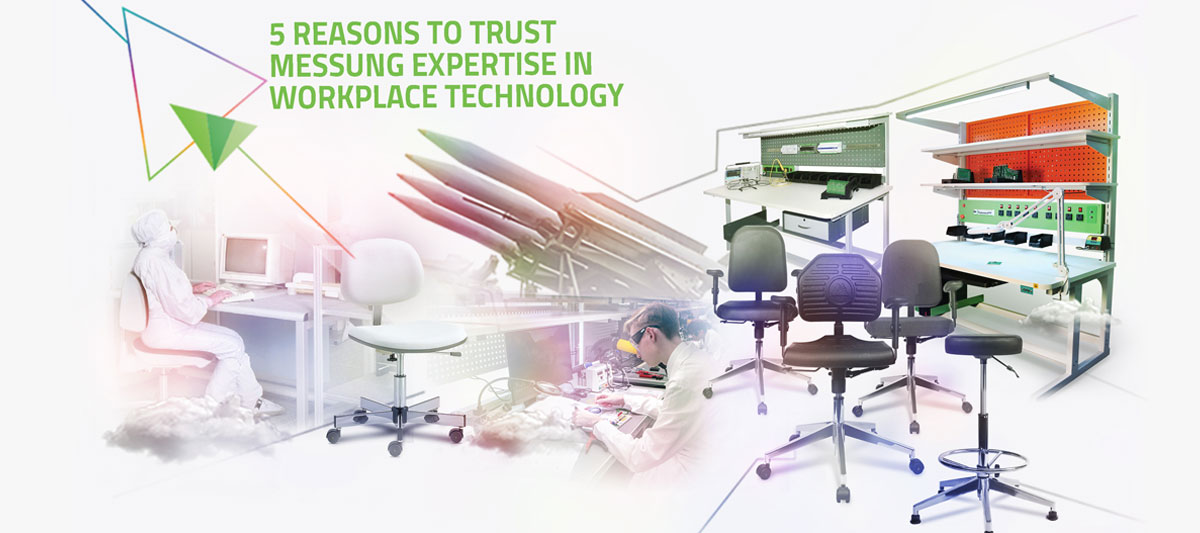 5 reasons to trust Messung expertise in Workplace Technology
Looking for ESD safe laboratory workbenches? Or Test & Measuring solutions in India? Need quality ESD cleanroom chairs for your biological cleanroom? Can't decide on the best Electronic Assembly tables in India? Searching for world-class ESD safe laboratory chairs that don't cost the earth?
Consider Messung Workplace Technology, a business unit of the reputed Messung Group. Well known as a leader in industrial automation for four decades, Messung is today gaining prominence as an innovative and reliable ESD chair manufacturer in India, who also offers a world-class range of ESD tables and other workplace technology solutions in India.
Below are some of the reasons why you should consider Messung for your workplace technology solutions:
Decades of industry experience
As a pioneer and leader in PLC manufacturing; as a company with indepth knowledge of the Electronics and otherindustries for four decades; Messung truly knows the needs and challenges of the industrial ESD workplace. Messungunderstands that Electronics manufacturing, testing and quality control need test and measuring equipment and ergonomic environments that are flexible, versatile and safe.
This experience and know-how enable Messung to design and develop the most relevant and effective solutions in Workplace Technology.
Inhouse design, development and manufacturing
Messung has its own R&D Centre in Pune besides a manufacturing facility where all Messung products are produced. Under its 'Navonmesh' Make in India initiative, Messung designs, manufactures and tests a range of ESD work tables, ESD trolleys, ESD racks, ergonomic chairs & stools – under the name, AFM-PLUS Series. Inhouse manufacturing means Messung has control over components & spares, processes, QC and delivery schedules.
Messung Workplace Technology products offer world class looks and specifications at a competitive price. Messung works continuously to deliver the latest, most efficient technology, and incorporates value-additions based on their rich experience and innovative problem-solving attitude.
For example, the AFM-PLUS Series of ESD work benches offer Volumetric ESD table tops.Volumetric ESD board with resistance between 106 to 107 Ohm, is fitted on a high pressure laminated particle board with ABS 2 mm edge binding. This provides uniform, all-round ESD protection for life. Further, Messung's design team has thoughtfully included curved front corners with ergonomic 50 mm radius to minimise the risk of injury from bumping into sharp corners.
Turnkey capabilities for T&M labs
Messungbrings the future of modern workplace systems for R&D labs, testing labs, calibration centres, training and didactic centres, etc. spread across the Indian electronic industry. Messung's innovative ergonomic industrial furniture with ESD protection, and intelligent test & measuring solutions in India are designed to improve efficiency while offering user comfort.
Messung also offers expert capabilities for designing and executing laboratory or training centre setups. ESD furniture, testing equipment & instrumentation, computers, storage systems, harmonics-free power supplies, server rooms with UPS and air-conditioners – whatever the customer needs as per their applications, Messung delivers the complete infrastructure from concept to commissioning.
Customised accuracy and efficacy
Messung knows that when it comes to workplace ergonomics and furniture, one size may not fit all. Messung believes offering the most suitable solutions for specific needs and challenges. The AFM-PLUS range of workplace products is modular and flexible, so users can define and optimise their individual work environment in the Electronics industry.
Messung studies customer requirements and delivers the optimal solution – for maximum accuracy and efficiency. As the ESD work tables, ESD laboratory chairs and other products are manufactured inhouse, minor changes and adjustments are possible.
End-to-end support
Messungbelieves in partnering with customers for the long term. From initial consultation regarding requirements and proposing the best solution to timely delivery and installation, Messung is involved and committed every step of the way. Messung's nation-wide sales & service team is available for prompt response to queries and local support whenever required.
Even for products that Messung distributes, such as cleanroom chairs and stools from Uchida, Japan, Messung assures quality service and reliable support.
Conclusion
So if you're searching for cleanroom chair suppliers India or ESD tables manufacturer in India, Messung is the experienced partner for you.
Messung has the necessary expertise, know-how and facilities to work with you every step of the way to ensureyou get a quality product that meets the needs of your facility, and best serves the productivity, safety and wellbeing of your people.