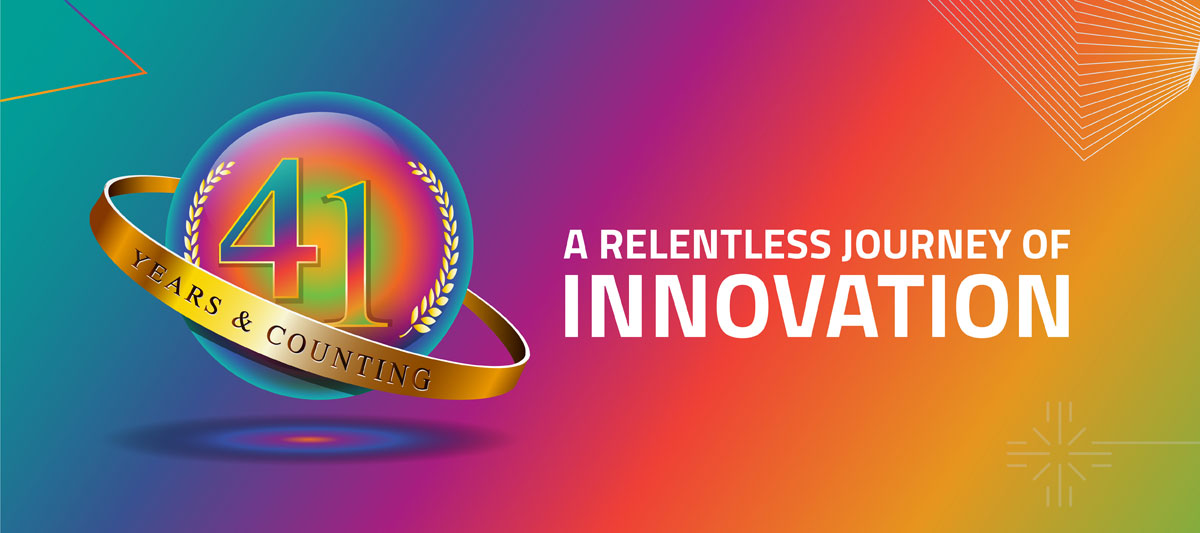 41 Years and Counting: A Relentless Journey of Innovation
Messung celebrated its 40th anniversary last year. A year of tough challenges as the world battled the pandemic, faced widespread disease and untimely death, and lived through trying lockdowns and restrictions.
It was a tough time for all, and Messung was no exception. Yet today, as Messung nears its 41st anniversary, it can proudly claim to have made 2021-22 a meaningful year.
Messung is no stranger to tough times and challenges. Since its inception as India's first indigenous PLC manufacturer to the diversified conglomerate it is today, Messung's strength has been its relentless focus and continuous innovation. This has helped Messung sustain and succeed through changing times, ever-evolving technology, fierce competition and other challenges that came its way.
INNOVATION IN INDUSTRIAL AUTOMATION
Since Messung launched India's first indigenous Programmable Logic Controller in 1984 to the more recent NX-ERA and XM-PRO series PLC systems including controllers, remote I/Os, HMIs and SCADA solutions, Messung has worked tirelessly over four decades plus, to deliver indigenous technology solutions that transform performance across industries.
Their long list of innovations is matched by the number of accolades received: G.S.Parkhe Award and FIE Foundation Award for Best Product Design; National Award for Outstanding Entrepreneur; International WISITEX Award and Award for Excellence in Electronics by Govt. of India; FIE Award for Best Product Design and more.
Over the last few years, at their Technology Centre in Pune, Messung has been actively developing automation solutions for both industrial and home/hotel automation. Meanwhile, there is a world-class R&D and manufacturing facility coming up for industrial automation. This top-class infrastructure is due to be officially inaugurated in the first quarter of this year, and will catapult Messung's capabilities for manufacture of futuristic IoT-based automation solutions for almost every industry application.
INNOVATION IN WORKPLACE TECHNOLOGY
Messung is also powerfully positioned to make its mark as a leading manufacturer of world-class workplace systems for industrial applications. The company has set up a sprawling ISO 9000 TUV certified manufacturing facility in Pune to produce world-class ESD and non-ESD workplace systems.
This manufacturing site boasts a smart design studio besides state-of-the-art wood processing and aluminium processing machines. Marketed under the brand 'AFM-PLUS', the wide range of standard and customised furniture includes ESD chairs & stools in standard and high versions, besides aluminium ESD workstation, trolleys, portable test stations, storage racks and drawer cabinets with the latest volumetric ESD technology. Messung also manufactures non-ESD workplace chairs, industrial workbench in aluminium and MS, and specialised ESD storage trolleys, racks and material movement furniture for general industrial workplaces, workshops, shop floors and offices.
Messung's strength lies in its 'Make in India' manufacturing which is on par with the world's best. This is also the source of its USP: customisation. With decades of industry experience, in-house design and manufacturing, world-class certification, stringent QC, Messung can provide customised workplace systems at cost-effective rates. Being located in Pune, fast turnaround times and deliveries are also assured.
INNOVATION ALL THROUGH
Messung's technological expertise and problem-solving skills shine through Messung's other businesses as well, and are recognised by industry across India.
Messung's Home, Office & Hotel Automation division is proactively engaged in the design and development of world-class KNX-based Home Automation products and systems including controllers, front end panels, backend devices and more.
For energy management systems and power distribution & control panels, Messung's Electrical Engineering division designs the optimised solution at cost-effective rates. Utilising its own automation products and other components like Janitza's power quality analysers, Fuji Electric's active harmonic filters & servo stabilisers, Wohner's busbar products, etc., Messung Electrical Engineering provides best-in-class solutions for safe, efficient and sustainable power distribution control and energy management.
Messung's BACD division is also a trusted name for innovative, custom-built building automation and building management systems. The division boasts of an impressive client list and project portfolio that includes Molex India's electronics manufacturing plant in Bangalore, Maruti's datacentre in Gurugram, Plasser India's railway equipment manufacturing facility in Gujarat, Varroc's factory at Chakan, Carrier's manufacturing unit at Ahmednagar and many more industrial and commercial premises across India.
CONCLUSION
Now in its 41st year, the entire Messung Group stays committed to indigenous innovation, developing and manufacturing technology solutions under its 'Navonmesh – Make in India' initiative. Even through the last 2 years of the pandemic, Messung's R&D for product development and investments in building manufacturing infrastructure have stayed on track. Proving without doubt that Messung is '41-years-young' – and all set to grow with innovation and expertise in the coming decade.