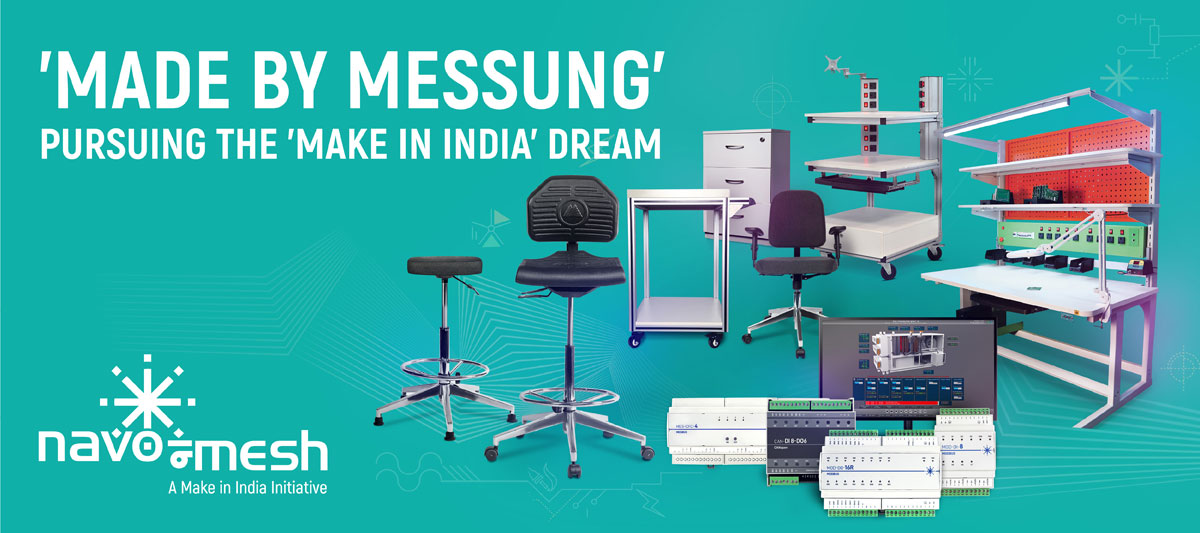 'Made By Messung' – Pursuing the 'Make In India' Dream
The domestic electronics hardware manufacturing sector faces a lack of a level playing field vis-a-vis competing nations. However, the vision of National Policy on Electronics 2019 (NPE 2019) is to position India as a global hub for Electronics System Design and Manufacturing (ESDM) by encouraging and driving capabilities in the country for developing core components and creating an enabling environment for the industry to compete globally.
Initiatives like 'Make in India, 'Digital India' and 'Startup India' are providing the sorely needed push to the Electronics System Design and Manufacturing (ESDM) sector in India. Schemes such as Production Linked Incentive Scheme (PLI), Scheme for Promotion of Manufacturing of Electronic Components and Semiconductors (SPECS) and Modified Electronics Manufacturing Clusters Scheme (EMC 2.0) have been launched to strengthen the ESDM ecosystem.
The PLI scheme, as its name suggests, is meant to provide companies incentives on incremental sales from products manufactured in domestic units. It aims to boost domestic manufacturing and attract large investments in mobile phone manufacturing and specified electronic components, including Assembly, Testing, Marking and Packaging (ATMP) units.
R&D too is being actively promoted under Make in India. The Dept. of Scientific and Industrial Research (DSIR) is operating schemes to grant recognition and registration to inhouse R&D units established by corporate industry. Once registered, such units are eligible for tax benefits in both direct and indirect taxes.
The 'Make in India' initiative and the 'Atmanirbhar Bharat Abhiyaan' (Self Reliant India Campaign) have played a key role in promoting business and local manufacturing in the country, giving special thrust to Micro, Small and Medium Enterprises (MSMEs).
The central government has also taken immediate response measures in the form of the Atmanirbhar Bharat Package to ensure continuity of businesses during the COVID-19 pandemic.Along with these measures, the Ministry of Micro, Small and Medium Enterprises also has numerous schemes in place to support the budding manufacturing units across the country.
'MADE BY MESSUNG'
The Messung Group is making impressive headway with its own 'Make in India' initiative. Branded as 'Navonmesh', it is the beacon that drives Messung on its path of indigenous innovation. The aspiration is to develop and bring to market innovative products and solutions that are relevant, futuristic and cost-effective. Products with the exclusive 'Made by Messung' tag, that will enhance productivity and add value to Indian industry.
Currently, the Group has some exciting offerings under its Workplace Technology and Industrial Automation divisions, while R&D carries on relentlessly in other divisions as well.
Workplace Technology
Messung has set up an impressive ISO 9000 TUV certified manufacturing facility in Pune to produce world-class ESD and non-ESD workplace systems. Equipped with a smart design studio and state-of-the-art wood processing and aluminium processing machines, the facility designs and manufactures a wide range of standard and customised furniture under the name 'AFM-PLUS'.
The AFM-PLUS Series includes ESD chairs & stools in standard and high versions, besides aluminium ESD worktables, trolleys, portable test stations, storage racks and drawer cabinets with the latest volumetric ESD technology. These products provide world-class ergonomics, flexibility, and reliable ESD protection in the range of 104-108 ohms (IEC 61340-5-1 & ANSI ESD S20.20.2014).
AFM-PLUS also offers non-ESD workplace chairs, industrial worktables in aluminium and MS, and specialised ESD storage trolleys, racks and material movement furniture for general industrial workplaces, workshops, shopfloors and offices.
Industrial Automation
Work is on apace at Messung's exclusive R&D and manufacturing centre for industrial automation solutions, and they hope to inaugurate the same in the first quarter of this year. Meanwhile, at their existing Technology Centre, Messung has developed a PLC system of futuristic IoT-based PLCs, local I/Os and remote I/Os. Branded 'XM-PRO 10', the system is designed for small to medium industrial automation applications in the Chemical, Textile, Automobile, Machine Tool, Plastic Moulding, Printing and other industries.
Compact and customisable, XM-PRO 10 is user friendly and flexible, with ready-to-use Modbus RTU/Modbus TCP and CANopen connectivity. Messung has also developed a Windows-based utility, XMPS-100 software that provides programming flexibility, online diagnostics functionality and much more.
CONCLUSION
The 'Made by Messung' endeavour is not a new one at Messung Group. Since its inception in 1981, Messung has pursued its passion of indigenous innovation, becoming the first indigenous PLC manufacturer in India. Today, 40 years down the road, the now-diversified conglomerate continues to build capabilities and infrastructure while developing world-class products and systems that promise real benefits for Indian enterprises.