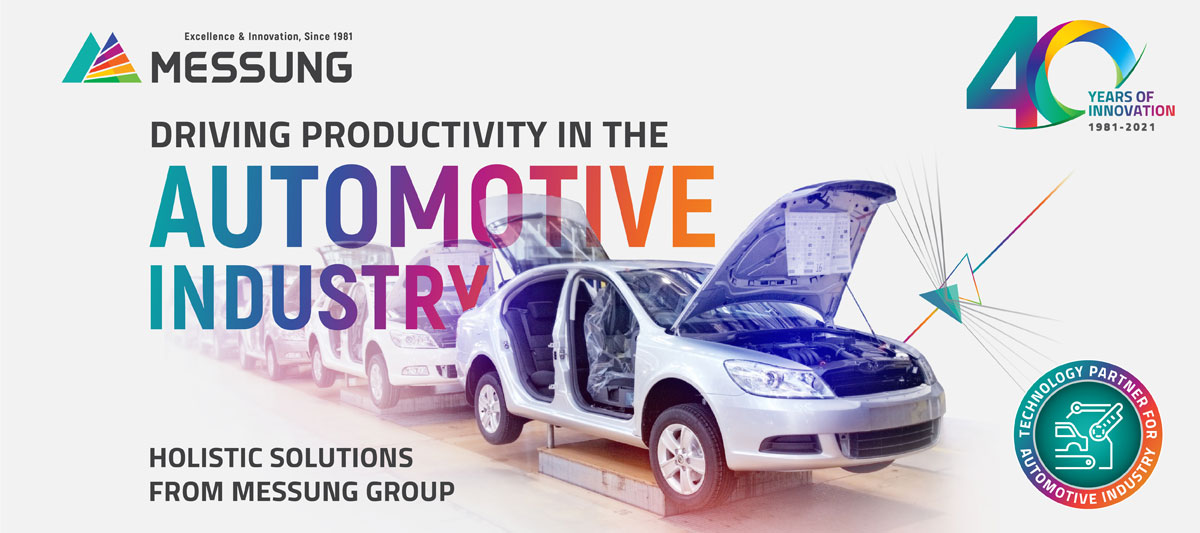 Driving Productivity In The Automotive Industry Holistic Solutions From Messung Group
Messung Group has been closely associated with India's automobile and automotive industries for four decades. Messung has partnered with two wheeler and four wheeler manufacturers in their journey towards smart manufacturing, developing solutions for every stage of the vehicle manufacturing process.
Today, Messung's capabilities stretch beyond factory automation to a complete package of technology solutions – under one roof! With innovative products & solutions, forty years of industry experience, and proven expertise in the auto sector, Messung delivers customised, high-performance solutions for practically every need in Automobile/Ancillaries manufacturing.
INDUSTRIAL AUTOMATION & CONTROL
REQUIREMENT: The auto industry globally and in India, has been one of the first industries to embrace automation and to continuously drive the need for such technologies. New, additional technologies such as 3D printing, robots and collaborative robots, or co-bots are speeding up operations and ensuring high outputs and minimal downtime. As the industry shifts from combustion vehicles to electric ones, robotic automation will play an even more critical role as robots can be programmed to meet higher demands and perform new roles while meeting production criteria.
SOLUTION: To help automobile manufacturers and suppliers handle rising costs as well as constantly increasing productivity and quality demands, Messung provides process controllers for optimising all production processes. The range of industrial automation applications covers the Press shop, Body shop, Assembly shop and Paint shop, as well as the intricate network of conveyors running through the factory.
Messung offers a complete range of Programmable Logic Controllers in India, from the large modular Nx-era Premium to the Nx-era Xpress, the leading micro PLC in India. Messung also manufactures Remote I/O modules under the XM-PRO Series – for Modbus, CANopen and their own 'Mesbus'. They also provide servo & motion control solutions and VFD drives in collaboration with their partners, Sigmatek, Austria and Fuji Electric, Japan. In fact, Messung not only provides IoT-enabled automotive automation and control for machines and linked plants, they optimise every process stage and ensure greater reliability.
Messung solutions also facilitate the "Andon" system, the "Poka Yoke" system and the "Pica Pica" system that help automobile manufacturers to create an error free assembly process for the Engine assembly line and the Chassis assembly line. These systems help prevent errors, eliminate waste and streamline processes.
In addition to turnkey system solutions, Messung supplies standard Automation products, which allow machine manufacturers to configure controllers that are individually tailored to their applications. The control platform is based on industry and IT standards, and supports the implementation of Industry 4.0 concepts for machine-to-machine communication and for data processing and analysis in the cloud (OPC-UA and MQTT).
ENERGY MANAGEMENT
REQUIREMENT: While demand for vehicles is increasing worldwide, automotive OEMs are simultaneously coming under growing pressure to reduce their energy consumption. Worldwide pressure to cut carbon emissions and increase sustainability has led the automotive industry to evolve its production processes.
Given that the automotive industry is the most highly automated manufacturing industry, its energy management requirements are also important. Truly effective energy management depends on manufacturers being able to control and utilise this precious resource right across their production facilities. Energy management means managing Power Quality, including reducing Transients, Sag-Swell, Utilising Reactive power effectively and monitoring RCM (Residual Current monitoring) across the whole plant.
Cutting back on the energy consumed relies on detailed process insights that are at the heart of what Industry 4.0 and smart factory concepts are now delivering with tangible benefits.
SOLUTION: Messung, in partnership with Janitza, delivers customised energy management systems as per IEC 61000-4-30, EN 50160 and IEC 61000-2-4 standards to enable power conservation, optimise power consumption and improve quality of power. Using Janitza's advanced power quality analysers and digital energy meters for energy management, power quality monitoring and residual current monitoring, and by leveraging the power of IoT, Messung ensures connectivity and real-time data analyses for prompt, informed decision making. Using ISO 50001 based supervisory softwares for supervision and monitoring of the entire Energy management systems, uniquely designed Device Home pages with innovative Apps downloaded on the Power quality meters greatly enhances user experience and utilisation.
Messung is also Master Distributor for Wöhner busbar systems, and designs advanced power distribution & control panels using their own PLCs, and Busbar products from Wöhner, international grade HMIs, energy meters and cloud interfaces. All control panel designs made by Messung are as per the latest technologies and as per IEC 61439 standards. Using high-end design software, Messung is able to provide good quality documentation for easy and accurate maintenance and servicing.
ENVIRONMENT/CLIMATE CONTROL
REQUIREMENT: Similar to warehouses and distribution centres, manufacturing facilities are high-bay buildings and require heating and ventilation systems as well as tempered cooling at times. Different parts of the automotive plant have different HVAC requirements and thus need a different mix of products to achieve the desired indoor air quality and thermal comfort levels.
HVAC systems consume a large amount of Energy and when used in areas of manufacturing where a lot of heat is generated, very careful algorithms need to be implemented to see that the usage of Energy is at its most efficient.
SOLUTION: Messung's HVAC solutions are designed and customised to meet all system requirements and provide optimal energy- and cost-efficiency.
Messung building management systems (BMS) can monitor the HVAC of manufacturing plants, assembly units and warehouses to ensure proper temperature and airflow, plus control of humidity and gas concentrations where management of these parameters is required.
Messung's innovative integrated building management systems enable you to connect and integrate HVAC and other different systems on a single, unified platform so you gain maximum functionality and operational efficiency while reducing costs and providing a safer, more comfortable indoor environment for your employees.
For factories and offices, Messung also provides a complete solution for "Lighting Management System" (LMS) based on advanced technology, service and support – to control lighting systems and their energy usage in a cost-efficient way.
The product range consists of a web-based, reliable software platform with redundancy option, shading control systems, visualisations, energy reporting systems and hardware components like occupancy sensors, photocell sensors, centralised and distributed routers, fixture-integrated sensors. All products are based on open standards like KNX, DALI, BACnet, Modbus, SNMP, TCP/IP, etc., and support the latest IoT technologies like MQTT and OPC UA.
WATER & WASTEWATER TREATMENT
REQUIREMENT: Automotive manufacturing facilities use a large amount of water in various manufacturing processes e.g. for surface treatment, coating, engine block cleaning, rinsing, paint spray booths, hosing, coolants used in machines, all producing large amounts of wastewater.This results in oily waste water with hydrocarbons and metal content.
From large plants to smaller mechanical workshops, all have to follow stringent trade waste regulations and therefore wastewater treatment is a big part of the car industry – hence waste- water treatment plants are compulsory.
SOLUTION: Messung's extensive knowledge and innovative technologies combine to deliver automated water purification systems and process controllers that reduce cost and down time while maximising productivity. They build sustainability and expandability into their integrated automation solutions for plant engineering and plant lifecycle management while ensuring you meet regulatory compliance with efficiency.
The advanced technology embedded in Messung products provides extremely accurate data collection, secure communication and integrated control to make operations more agile and productive.
WORKPLACE ERGONOMICS
REQUIREMENT: Even though the automotive industry is highly automated, manpower is still an important asset, working closely with machines for better productivity. Industry needs to provide ergonomic working conditions for its people. In areas where electronics testing or R&D is done, ESD-safe furniture is essential for Health andSafetycompliances.
SOLUTION: For R&D labs, testing labs, calibration stations, manufacturing departments, assembly stations and training centres spread across the automotive industry, Messung offers an innovative range of ESD and general furniture that is designed to improve efficiency, safety and comfort.
Messung manufactures a world-class range of ESD chairs & stools, ESD workstations, ESD racks, etc. as per IEC 6134-5-1 and ANSI ESD S20.20.2014. Messung's industrial work tables, lab tables with drawers and other workplace solutions enable users to optimise their work environment for enhanced productivity.
Messung's range of ergonomic workstation chairs and stools, and laboratory chairs are proven in tough industrial conditions, and trusted for enhancing comfort, boosting productivity.
CONCLUSION
Contact Messung Group for any requirements in your automobile manufacturing or automotive ancillary industry. Messung is a leading PLC manufacturer in India with decades of experience in the automotive sector, so you can expect efficient and cost-effective solutions – to enhance productivity and help you achieve global quality and sustainability standards.