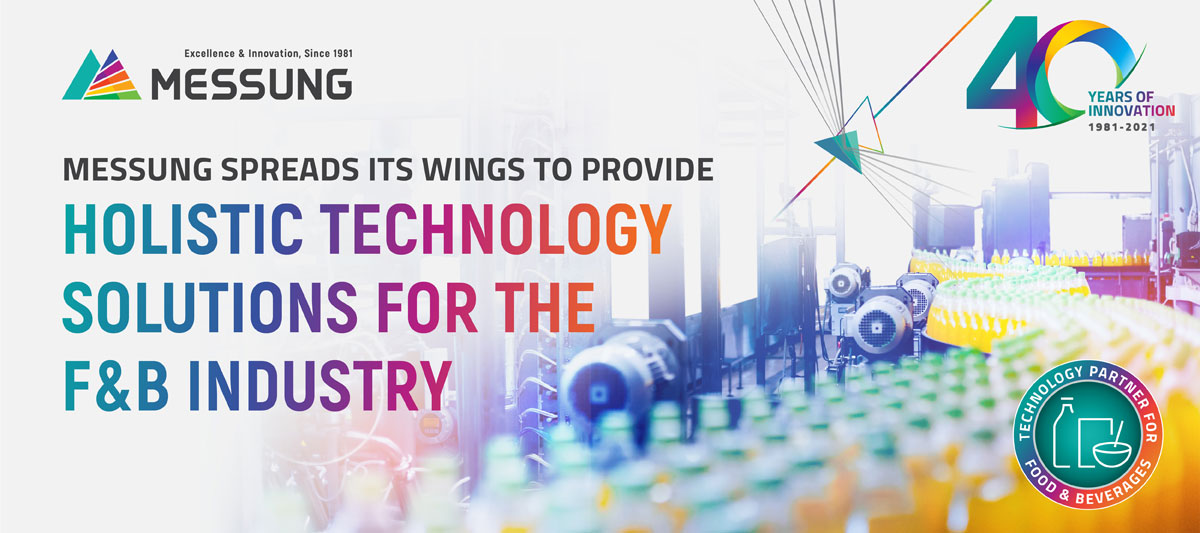 Messung Spreads Its Wings To Provide Holistic Technology Solutions For The F&B Industry
Messung Group, based in Pune, India, is a diversified conglomerate offering holistic technology solutions for industry.From being a leading PLC manufacturer and industrial automation systems provider, the Group has evolved to encompass three broad businesses, namely Automation & Control, Electrical Engineering and Workplace Technologies. Messung is now a one-stop source for a complete package of technology solutions for practically every need in the Food & Beverage (F&B) industry.
With an integrated approach to technology, extensive portfolio of innovative products, and four decades of industry experience, Messung goes beyond standard solutions to develop customised, holistic solutions that add value and drive performance in the F&B industry.
REQUIREMENTS OF THE F&B INDUSTRY
For Industrial automation
From ovens and freezers to mixers and blending machines; from cutting and forming machines to conveyor belts and sortation equipment; from wrapping equipment, complex bottling and packaging machines to robots, the F&B industry depends on automated systems for industrial-scale food production.
Major automation is also happening in the supply chain and logistics part of the business because the scale of business is growing very fast. F&B companies want to package their product at a very high scale, carton it, distribute it and manage the whole warehousing concept automatically.
For environment control
In the F&B industry, the environment of your facility is of utmost importance. The temperature, humidity levels, amount of light, level of air particle contaminants and concentration of specific gases all factor into maintaining the food quality.
Precise climate control is required to ensure the optimum conditions for production and comfort are maintained in the most efficient manner. Ensuring the perfect environment will increase production efficiency, improve energy efficiency, ensure a high-quality product, improve hygienic conditions and improve health and safety for all.
For energy management
Energy is the largest expense at any industrial operation. For F&B plants, effective energy management is a business necessity to monitor and control cost of production, and optimise equipment uptime. Increased competition, tighter margins and rising energy costs mean that F&B producers have to optimise energy usage and reduce energy costs.
For wastewater treatment
Automation of wastewater treatment plants can help the F&B industry save money by reducing energy consumption and making for more efficient use of chemicals. In addition to these savings, automation will help to preserve the health of the activated sludge system while ensuring you never exceed environmental discharge limits.
For ergonomic cleanroom systems
To meet the critical hygiene and cleanliness standards mandated in the F&B industry, and provide more ergonomic working conditions for its people, the industry requires cleanroom furniture as per the latest international standards.
MESSUNG'S INDUSTRIAL AUTOMATION SOLUTIONS
Messung Group offers smart manufacturing solutions to enable the F&B industry to address the required levels of quality control, production speed and overall profitability. Messung's industrial automation and control systems are capable of controlling, in a distributed and redundant way, complex industrial processes, machines and high-performance production lines.
Messung's factory automation solutions ensure better Quality control all along the supply chain by making the food product traceable and safe through the many involved processes and touch points.
Automation and modern analytics tools can be deployed to track products and goods from inception to fulfilment. With appropriate systems, defects and issues in processing and packaging can be detected earlier, and automation helps you hone in to the exact 'when' and 'where' of those problems so that they can remedied.
No matter the type of product or the way it is packaged, Messung automation has found its way into the process of the F&B industry. At the end of the day, Messung plant floor automation using their Nx-era range of Programmable Logic Controllers, enables the food processing industry to keep costs down and food quality up.
Messung has also tied up with international majors Sigmatek, Austria and Fuji Electric, Japan for a range of globally proven Industry 4.0-enabled servo drive solutions based on IEC 61131-3 standard, and VFD drives.  With these partnerships, Messung is well positioned to provide reliable servo & motion control solutions for high-speed packaging processes and machinery in the F&B industry.Thanks to the open system architecture, other systems such as vision systems, robots and Pick & Place units can be seamlessly integrated.
HVAC SOLUTIONS FOR THE F&B INDUSTRY
Messung customises turnkey solutions to meet exact specifications and provide an HVAC system that meets the appropriate food safety regulationstoensure the environment maintains its integrity.
Messung building management systems (BMS) can monitor the HVAC of processing plants, packaging units and warehouses to ensure proper temperature and airflow, plus control of humidity and gas concentrations where management of these parameters is required. Lighting systems can also be controlled to ensure that the appropriate level is maintained in the most cost-efficient way.
ENERGY MANAGEMENT SOLUTIONS FOR THE F&B INDUSTRY
Messung has joined hands with Janitza GmbH, the world leader in energy management solutions. Janitza offers a comprehensive product range of power quality analysers and digital energy meters for energy management, power quality monitoring and residual current monitoring in a single system environment.The software and hardware are optimally tailored to one another.
Messung, in partnership with Janitza, delivers customised energy management systems as per IEC 61000-4-30, EN 50160 and IEC 61000-2-4 standards to enable power conservation, optimise power consumption and improve quality of power. By leveraging the power of IoT, Messung ensures connectivity and real-time data analyses for prompt, informed decision making.
Messung is also Master Distributor for Wöhner busbar systems, and designs advanced power distribution & control panels using their own PLCs, Busbar products from Wöhner, international grade HMIs, energy meters and cloud interfaces. All control panel designs made by Messung are as per the latest technologies and IEC 61439 standards. Using high-end design software, Messung is able to provide good quality documentation for easy and accurate maintenance and servicing.
WASTEWATER TREATMENT AUTOMATION SOLUTIONS FOR THE F&B INDUSTRY
Messung's wastewater treatment automation systems can help industrial clients treat their wastewater as efficiently as possible. Rather than offering a "one-size-fits-all" solution, Messung tailors your automated system for your specific needs.
Messung's wastewater systems with programmable logic controllers (PLCs) give you a user-friendly interface for controlling system function.The powerful human-machine interface (HMI) will work with both batch and continuous systems, facilitating easy monitoring, reporting, and controlling throughout the wastewater treatment process.
The Ethernet support system enables technicians/operators to program, monitor, and control the system's operation via a telephone line. You can also connect PCs, laptops, tablets, and mobile phones to view the screens remotely.
MESSUNG WORKPLACE SOLUTIONS FOR THE F&B INDUSTRY
To meet the critical hygiene and cleanliness standards mandated in the Food industry, Messung offers Class 100/ISO 5 cleanroom chairs and stools from Uchida, Japan.
Messung also offers stainless Steel tables, laboratory chairs & stools, SS trolleys, storage racks and lab tables with drawers that fulfil global cleanroom criteria as per ISO-14644-1 guidelines, and provide unmatched ergonomics and convenience in controlled environments.
CONCLUSION
Setting up a new Food & Beverage factory? Looking to update machines and processes? Want to optimise energy usage and save on exorbitant electricity bills? Need to integrate your process and energy management systems? Want to give your people more ergonomic and safe workspaces? Contact Messung Group. Messung is a leading PLC manufacturer in India and will partner to provide the most efficient and cost-effective solutions, covering almost every aspect of your industry – to enhance productivity, minimise costs, achieve global quality and sustainability standards.