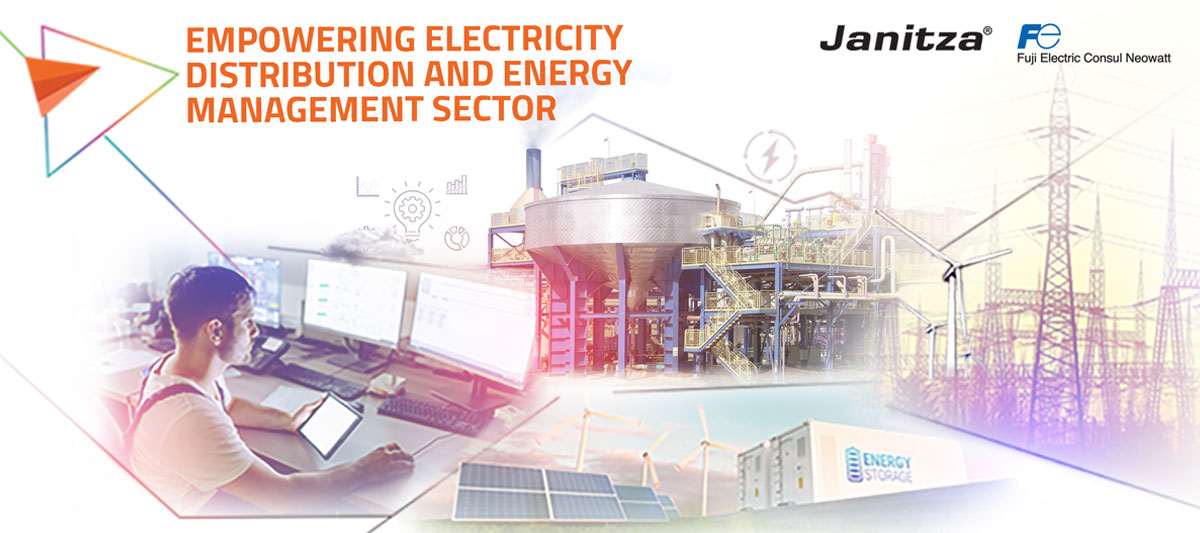 Powering change in electricity distribution and energy management
The world of power distribution and energy management is growing in complexity as it confronts old problems, new challenges, varied energy sources and multiple applications emerge every day. Yet, it is also clear that today, electrical power drives modern civilisation. Efficient and safe distribution including energy management and power quality monitoring is critical for providing industrial and buildingfacilities with power.
Messung understands this requirement of the Indian market and is committed to providing reliable, intelligent and world-class solutions for the Power Monitoring and Distribution sector.Messung has tied up with global players and market leaders for their cutting-edge products and technology such as busbar systems, Class A power quality analysers, residual current monitoring devices, online UPS, active harmonic filters and electrical panel components. The comprehensive portfolio is complemented by Messung's own expertise in automation and engineering. The outcome is a range of custom-made and application-specific solutions that are transforming power distribution and energy management across industries and infrastructure.
Messung's expertise spans three broad segments:
Distribution & Control: The power distribution panel is an essential component of every electricity supply system. These boards feed electrical power to different circuits that provide protective and efficient fuse and circuit breakers for every circuit and can be accessed with simplicity in case of an electrical fault.
Increasing levels of automation make this an exciting field for Messung to operate in. With its decades of experience in PLC-based automation, Messung provides smart power distribution control panels with automation products like PLC, HMI and Scada along with Wohner's  special Busbar systems as per IEC 61439 standards.
Messung offers total low voltage power distribution control systems by studying the automation requirements of the customer and proposing an efficient, cost effective solution.
Messung's turnkey solutions are Industry 4.0-compatible, smart Cloud-based solutions to provide IOT features for "Any time Anywhere" supervisory and control features.
Messung also provides end-to-end support to ensure that the customers application – be it a machine tool or a water treatment plant – is completely automated. Messung's team provides programming, engineering, training and documentation services as a part of the total deliverables.
Control Panels: Messung offers a single source solution for custom-made and application-based control panelsto suit customer needs.
Messung provides "Control Panel Solutions" to a wide arena of applications like water and waste water treatment plants, sugar machinery, plastic extrusion, printing, pharmaceutical, automotive assembly and testing lines, electro plating, boilers, material handling, furnaces, mechanical and hydraulic press and other similar applications in different industry verticals.
Messung provides smart electrical distribution control systems with all types of advanced electronic instruments, components and programmable logic controllers. Customers are assured the latest technology and all interfacing/inter connections as per global industry standards.
Messung makes these control panel solutions using their state-of-the-art fabricated MS or Aluminum panels and world class switch gears as per the standardization of the end user. Besides Messung also puts in their NX-ERA PLC, Busbar products from Wöhner, international grade HMIs, energy meters and cloud interfaces. All control panel designs made by Messung are as per the latest technologies. Using high-end design software, they are able to provide good quality documentation for easy and accurate maintenance and servicing.
From design and development (Engineering) for electrical and instrumentation process control through manufacturing of all types of PLC & MCC Control Panels, with availability of Factory Acceptance Test facility and commissioning service support at site, Messung ensures on-time delivery of fully wired Control Panels
Energy Management:Electrical Energy is the primary need of any industry. By implementing proper Energy Management systems, Power Quality Monitoring and Analysis including Residual Current Monitoring,users can greatly benefit from enhanced up-time of machines, reduced tariff and penalties, and improved profits.
Messung offers modern Janitza products which have a wide range of applications and allow customers to implement a comprehensive installation of Class A power quality energy meters,varieties of energy measuring devices with Ethernet IP, Modbus, Profibus, Profinet, M-Bus protocol interfaces as per IEC 61000-2-4.
Alarms and push notifications including watchdog features as per EN 50160 and IEC 61000-2-4 provide solutions to customers, right up to individual departments in the industry to tightly monitor the usage and quality of the power at the most local level.
With intelligent hardware and software, Messung's customised solutions enable power conservation, optimise power consumption, improve quality of power. By leveraging the power of IoT, Messung ensures connectivity and real-time data analyses for prompt & informed decision making.
Messung has also tied up with Fuji Electric Consul Neowatt for their market-leading range of online UPS and Active Harmonic Filters. These power conditioning and power back-up products enable Messung's solutions to support critical and sensitive equipment in various industrial, commercial and data centre applications.
Conclusion
Messung is a leading power distribution control panel manufacturer dedicated to improving the quality of life and the environment through the use of innovative electrical products and technologies, and has partnered with international leaders to offer advanced solutions in electrical engineering.
Messung partners with OEMs and end users to deliver the most efficient solutions:  best-in-class products that build world-class smart electrical distribution control panels; custom-built busbar panels for safe and compact installations as per IEC 61439 standards; and end-to-end solutions for power distribution & control, automation and Cloud-based energy management.
Integrating strategy and technical consulting expertise with deep domain knowledge and real-world experience, Messung helps homes, businesses, institutions and OEMs achieve increased energy efficiency, improved productivity, greater safety and higher profits.