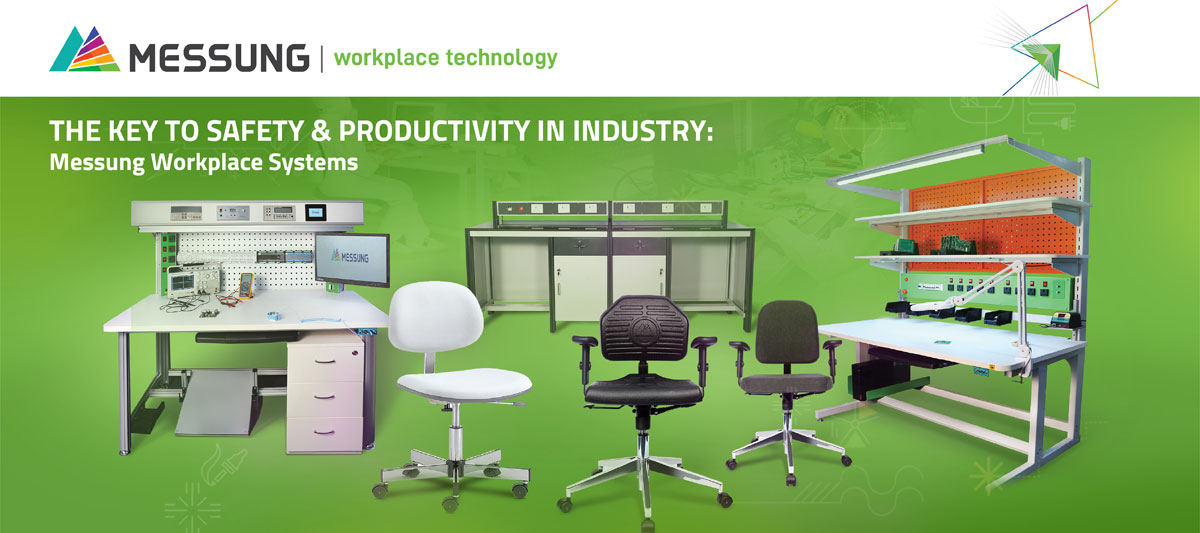 The Key to Safety & Productivity in Industry: Messung Workplace Systems
The importance of workplace furniture hardly needs to be emphasised. With people spending more and more time at work, it's more important than ever to think about your employees' health, comfort and productivity. However, it's not only about workplace wellness. It's about the quality and due diligence of work. In some industrial work environments such as in electronic manufacturing, or in Pharma/Chemical laboratories, there are other compliances to consider. These compliances ensure the safety of the people involved, as well as the quality of the products being developed.
Messung, with four decades of industry experience to their name, understands these concerns and requirements, and presents a comprehensive range of solutions for different industrial workplaces.
ESD WORKPLACE SYSTEMS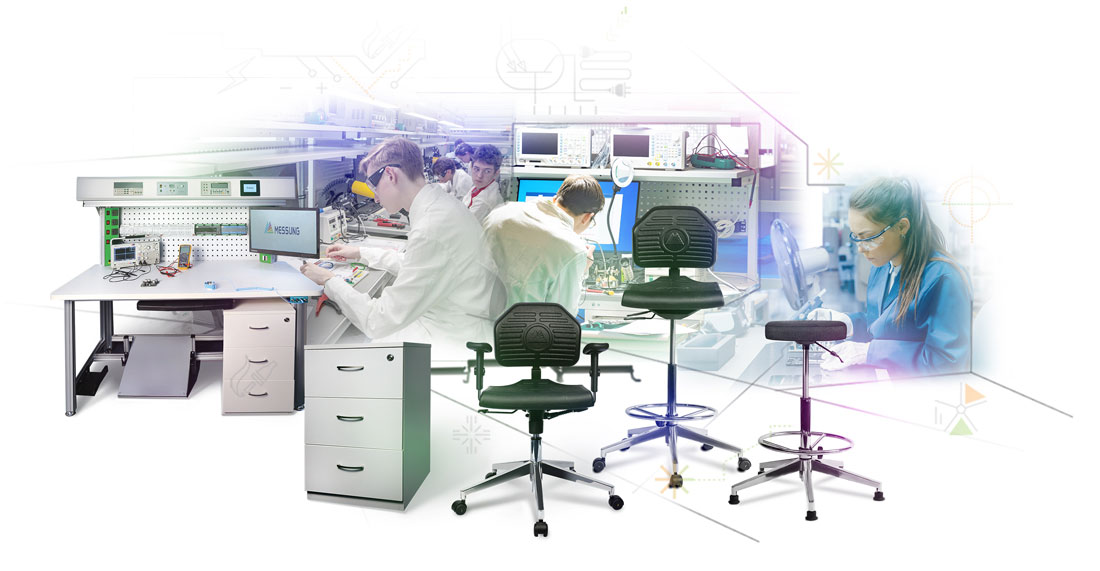 Messung is one of India's leading ESD products manufacturers. Under its 'Navonmesh – Make in India initiative', Messung offers a range of indigenously designed and manufactured, world-class ESD workplace products at competitive prices. The products offer ESD protection as per IEC 61340-5-1.
Messung's AFM-PLUS Series of rugged and reliable ESD-safe furniture includes standard ESD chairs & stools, high chairs & stools, besides ESD workstations, ESD trolleys, ESD storage racks and drawer cabinets in aluminium, with the latest volumetric ESD technology. These products provide world-class ergonomics, flexibility, and reliable ESD protection for years.
Messung's ESD-safe workplace solutions are the preferred choice for Test & Measuring and Electronics Assembly. Electronics manufacturing, testing and quality control need test and measuring equipment and ergonomic environments that are flexible, versatile and safe. Messung's modern workplace systems for R&D labs, electronic assembly & testing labs, calibration centres, training and didactic centres, etc. are designed to
improve efficiency while offering user safety and comfort.
Messung also offers expert capabilities for designing and executing laboratory or training centre setups. ESD furniture, testing equipment & instrumentation, computers, storage systems, harmonics-free power supplies, server rooms with UPS and air-conditioners – whatever the customer needs as per their applications, Messung delivers the complete infrastructure from concept to commissioning.
GENERAL WORKPLACE SYSTEMS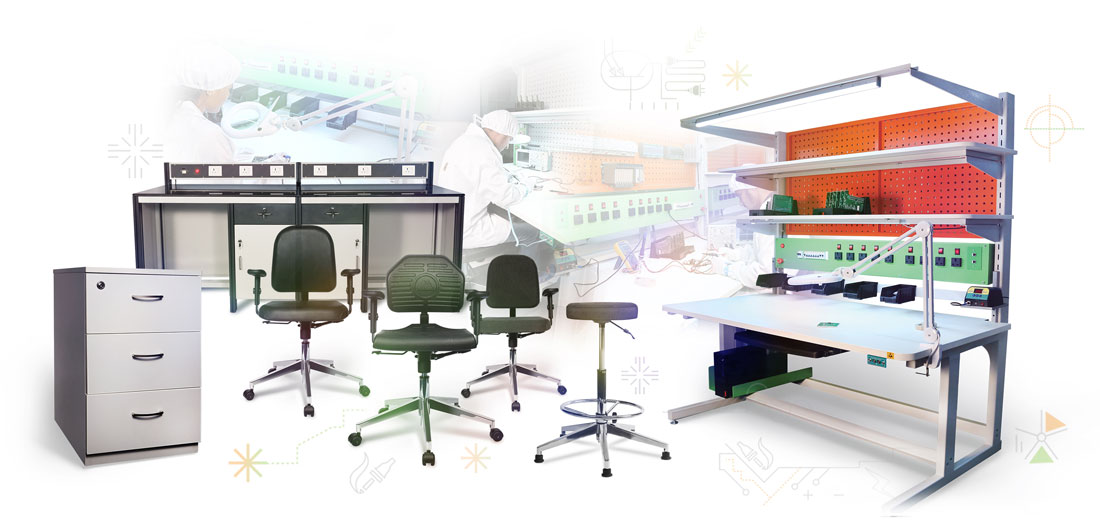 For general workplaces, Messung designs and manufactures a world-class range of workplace furniture that is modular, flexible and cost-effective.
For unmatched ergonomics, Messung offers industrial chairs and stools in both standard and high versions. To optimise the work environment, promote productivity, convenience and working comfort, Messung also provides a range of industrial worktables, storage trolleys, racks and drawer cabinets in Mild Steel. For chemical laboratories, our aluminium work benches with granite or SS table tops can be customised for different sizes, designs and additions such as instrument shelf, wash basin, drawers, etc.
CLEANROOM WORKPLACE SYSTEMS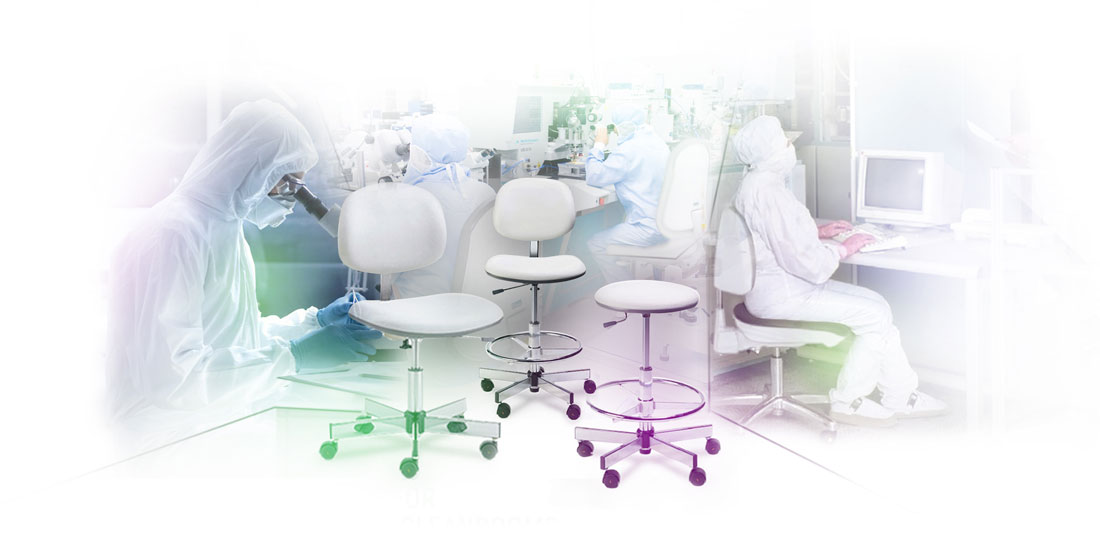 Cleanrooms are utilised as a part of specialised industrial production or scientific research for products such as electronics, pharmaceutical products and medical equipment.
They are designed to maintain extremely low levels of airborne particulates and contaminants as per various international standards i.e. Federal Standard 209, British Standard 5295, ISO-14644-1.
For such controlled environments, we offer a range of superior cleanroom products: class 100/ISO 5 cleanroom chairs and cleanroom stools from Uchida, Japan.
We also offer Stainless Steel tables, laboratory chairs & stools, SS trolleys, storage racks and lab tables with drawers that fulfil global cleanroom criteria as per ISO-14644-1 guidelines, and provide unmatched ergonomics and convenience in cleanroom applications.
WHY CHOOSE MESSUNG WORKPLACE TECHNOLOGY SOLUTIONS?
If you're searching for cleanroom chair suppliers India or ESD tables manufacturer in India, Messung is the experienced partner for you.
As a company with four decades of indepth knowledge and experience of the Electronics and other industries, Messung understands the needs and challenges of the industrial workplace. This know-how helps Messung
develop the most effective products.
What is more, Messung's offerings for the workplace are designed, manufactured and tested inhouse, under its 'Navonmesh – Make in India initiative'. So Messung keeps a vigilant eye on quality, compliances and delivery schedules while ensuring you get world-class looks and specifications at cost-effective prices.
Another reason to select Messung is their customised efficacy. Messung studies customer requirements and tailors the optimal solution – something they can do easily since the ESD worktables, cleanroom tables, mild steel workbenches, ESD chairs, stools and other workplace furniture is manufactured inhouse.
So it makes sense to talk to Messung Workplace Technology for your workplace requirements. Messung has the necessary expertise, technology and facilities to work with you and deliver products that enhance efficiency and productivity, ensure safety and wellbeing.