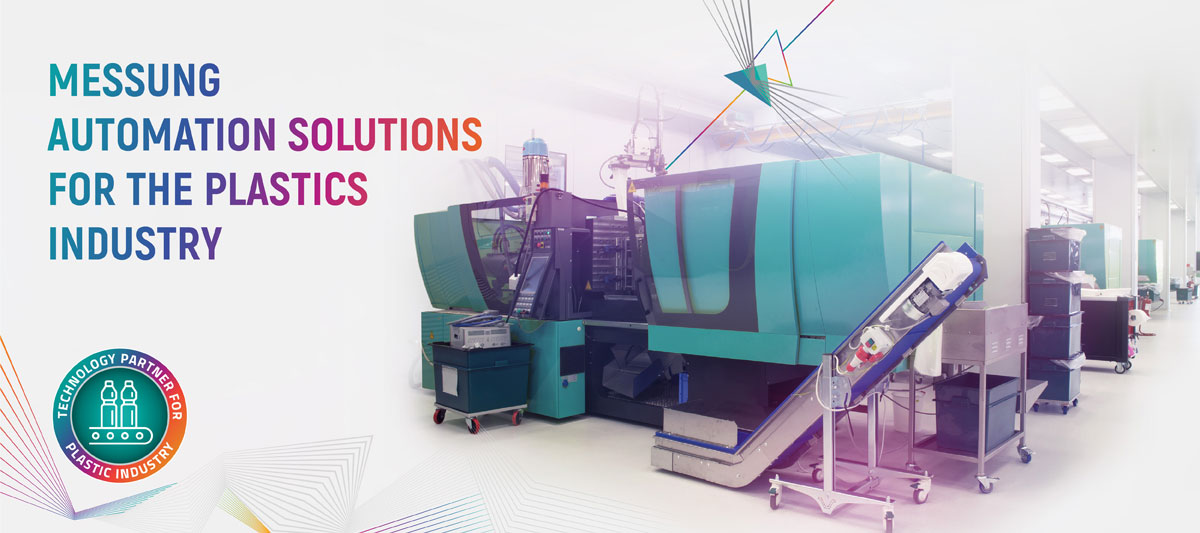 Messung Automation Solutions for The Plastics Industry
Automation is now an essential part of industry; the key to being competitive in a globalised market. The plastic industry is no exception.
As an industry looking to improve productivity, reduce operating costs and create innovative products, the plastic industry relies increasingly on automation. Advances in control systems have helped to reduce the human content in the manufacturing process, enhancing accuracy, speed and quality, especially in repetitive tasks.
Messung's connections with India's plastic industry goes back three decades. Based in Pune, Messung develops customised automation and control solutions for different machines and processes in plastic manufacturing. With more advanced diagnostics, controls, and tremendous growth in software sophistication, Messung's industrial automation and control can help manufacturers rise to the challenge of constantly-growing demands for lower cost and optimisation.
HOW AUTOMATION CAN BENEFIT PLASTICS MANUFACTURING
Allows manufacturers to boost throughput, control quality, improve time to market
Enables production of smaller, more complex parts
Allows companies to produce lower volume quantities of seldom-ordered products
Automated visual inspection helps ensure consistent batches of products that are defect-free and standard-compliant
Reduces the number of human-related rejections and errors; reduces risk of contamination from human workers
Reduces risks of serious injury where operators are working in dangerous environments or moving components that require special handling
MESSUNG SOLUTIONS FOR THE PLASTICS INDUSTRY
Messung offers a wide range of automation solutions to help you make your plastics business more efficient. Whatever the process – injection moulding, machining, parts handling, palletising – Messung can help optimise your value chain. Messung's solutions also react flexibly to new developments, thus providing a future-proof system.
With rich experience in implementing and scaling up manufacturing automation solutions, Messung offers control solutions for most plastics manufacturing processes, such as:
Plastic Injection Moulding Machine: Manufacturers demand consistency, repeatability and accuracy from their injection moulding. Messung's automation solution sets consistent parameters which are monitored and controlled by the machine, thereby ensuring improved parts quality. The same high-quality results are achieved every time, and you also benefit from improved uptime and cycle times.
Plastic Extrusion Machine: Whether you are extruding plastic for a screwdriver handle or moulding, Messung can provide a state-of-the-art extrusion control system that enables better accuracy and consistency throughout the high-volume manufacturing process.
Messung's expertise can also integrate complex extrusion systems with multiple lines. Using a combination of standard features with optional process monitors, you can monitor each machine from the extruder to the end of the downstream. Alarms and user-friendly controls will facilitate troubleshooting thereby ensuring optimal performance at all times.
Plastic Blow Moulding Machine: Messung's solution offers temperature and Variable Frequency Drive control, to fulfil most standard blow moulding machine requirements. The functions are easy for operators to modify. Messung also offers service to hydraulic blow moulding machine owners/makers who are looking to upgrade their systems.
Roto moulding machine: Automation and temperature control are crucial in modern rotational moulding machinery. Messung develops customised solutions for both new machines and retrofitting applications. From automating the mould opening and closing, and the dosing system to the temperature controller which monitors internal temperature of the mould through the entire production cycle, and many more features – Messung's industrial automation solutions keep your moulding operations running smoothly, efficiently and sustainably.
Thermoforming Machine: Thermoforming is a process of heating a thermoplastic sheet to its softening point. The sheet is stretched across a single-sided mould and manipulated. Then it cools into the desired shape. Messung can provide automation solutions at various stages like Sheet Feeding, Heating (PID controllers), Press Control & Product Thickness Control. Due to Automation, the process and materials can be optimised for cost effectiveness.
CONCLUSION
It should be noted that automation is rarely 'plug and play', and plastics manufacturers need a vendor who can deliver a complete system that meets and exceeds their production requirements. Messung partners with plastics companies to deliver the most relevant solutions. Utilising more user-friendly controllers, software and touch-screens, Messung's control systems are designed to be more accessible to the average operator and facilitate smooth, reliable operations.
Messung is the leading PLC manufacturer in India,offering a complete range of advanced PLCs and control systems incorporating motion control systems, VFDs, servo drive products, HMIs and more.
Besides the large Nx-era Premium Programmable Logic Controller to the Nx-era Xpress mini PLC, and servo & motion control solutions from its partners, Sigmatek, Austria and Fuji Electric, Japan, Messung also offers advanced remote I/O modules developed indigenously at their own Technology Centre in Pune.
For retrofits or new machines in your Plastics industry, call Messung. Pioneer of India's first indigenous PLC, Messung had decades of experience and knowhow to provide customised, cost-effective automation and control solutions to boost productivity, reduce operating costs while helping you meet your industry's sustainability goals.
Messung not only provides IoT-enabled automation and control for the entire range of requirements – from single machine to linked plant, they optimise every process stage and ensure greater reliability.